The pink stripe is mt tape, while the tea and cake washi tape is from Aimez le style (the link is to several patterns). Another wonderful example is this one. The colours used here are somewhat lighter but still feminine, even if the designs are still largely in the "Aimez le style."
Ten images overall, including various cakes, cupcakes, macaroons, jams, teapots, and cups, are included on the decorative tape. Each cake can be cut out and turned into a sticker because there is a lot of white space between them all. You may see that in the journal for today. Just for fun, I drew a couple "drops" for the green teapots.
Bees, Flowers, and Washi Tape in Watercolor
What do you actually do with your valuable Sunday time? Do you simply unwind or are you still working erratically to complete several tasks?
Some of you, particularly those in the service sector, may still need to work because of your line of employment. But how do you utilize Sundays wisely if you work Monday through Friday, or even on Saturdays? It was a gorgeous Sunday when I initially began working on this page in my appreciation diary. It's quiet, serene, and calm, and I was quite grateful for that.
I was able to relax and indulge in some daydreaming since I was so filled with gratitude. Today is the time to live in the moment rather than dwelling on what happened yesterday or worrying about what will happen tomorrow.
The watercolor painting tape has amazing colours. The colours work well together. Can you tell if this is the sky? Maybe the setting or rising sun? This makes me think of Sunday mornings spent at the park. It energizes and refreshes. Let's walk outside and enjoy some fresh air together!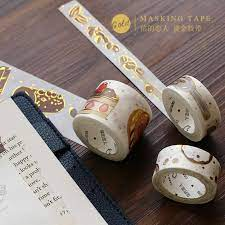 Washi tape gift box with ribbon, washi tape, and speed
The fact that this is not a fancy present box or any expensive cardstock or wrapping paper should be made clear. The yellow present box you see in the image above was simply made out of thicker leftover paper. You see, when you enjoy crafts, you have a tendency to assemble random supplies. For instance, I would retain the remaining cardstock from a 12″ × 12″ sheet if I only used 1/4 of it.
The same would apply to a smaller sheet of paper because I would constantly think in this way. Keep the paper so I can punch or stamp some tiny flowers on it. As a result, I've started gathering lots of scrap paper rather than purchasing new cardstock or sheets.
I'm sorry I don't have step-by-step instructions with photographs to help you construct this gift box. I intend to accomplish that in future blog articles, hopefully. Grab any thick paper or cardstock you can find for Step 1. It is preferable to use heavier cardboard when building a box so that it is strong and robust.
Step 2: Next, create the box base and lid using a score board. Here, I'm using a scoring board made by Martha Stewart, and the measures are built right into the board. This is the perfect opportunity to highlight the amazing washi tapes because the box itself is a very plain tiny yellow box. Okay, so this is another use for washi tape. Make the magical moment happen by letting them shine! In other words, decorate the box with lovely tapes to make it stand out and be special. I think of myself as being minimalist. In light of this, it is not surprising to see another design by mt.
Step 3: Simply cut your preferred flower and attach it to the box's top with tape.
Step 4: Adding the dark green ribbon is the final step. But I think it's a little too gloomy. I reasoned, though, why not use the thin tape to lighten the hue. I was surprised to find that the thin green washi tape adheres well to the ribbon. Hurray! I've created a new pattern for the ribbon.
But first, a reminder. Rice paper is used to make the washi tape. It may be a little challenging to tie a bow if the ribbon is adhered. I therefore use glue to create the closure by joining the ribbon's ends.
Canal Town Washi Tape
I wonder whether you noticed the earlier threads, which primarily discussed MT masking tapes but also mentioned a few other brands. This is due to MT being the first brand of washi tape we were aware of and how our collection got started. But I want to emphasise that starting with this post, you may notice some additional brands besides mt. You know, sometimes I'd compare washi sticky tape to fashion very favourably.
In addition to spring/summer and autumn/winter collections, several businesses and artists have also released their own own washi tape designs. "There's always place for a new dress in the wardrobe," goes the Chinese proverb here. Well, a direct translation is a little difficult.
It basically indicates that a female can never have enough clothes. She constantly feels as though her clothing is still missing something, whether it is a trendy coat or a skirt that matches. Her partner was informed by a friend that she required a new outfit for a party. Then, in shock, he asked her, "What are those inside your wardrobe? You only recently purchased new dresses!
Can this be connected to the washi tape craze, then? Even when the storage is full, we can never have enough of those tiny washi tapes. Please allow me to remind you that new designs are always being developed while the current ones are typically still available.
There are therefore quite a few. I won't be able to collect them all and present you. However, we'll update this blog with them as soon as the new ones become accessible. Okay, that's enough. Returning to the washi tape in the Aimez le style of Canal Town.