What do you mean by an all-in-one service? In layman's language, the phrase all-in-one denotes a place or platform where one can get everything they need. Think of a mall. It is a place where you can purchase anything from clothes to footwear, electronics, and food. Similarly, a Gojek-like app is a digital platform where your customers can get multiple services. Here, your customers can find services like ordering food, booking a moto ride, parcel delivery, consulting a doctor, etc.
Let's explore the multiple services of such cash applications and see why it's the best all-in-one platform. 
Ready-made Gojek Clone: One Platform, Multiple Services
Mentioned here are the numerous services of the app. Take a look at what these services offer. Alongside this, we have mentioned the components that make individual services remarkable.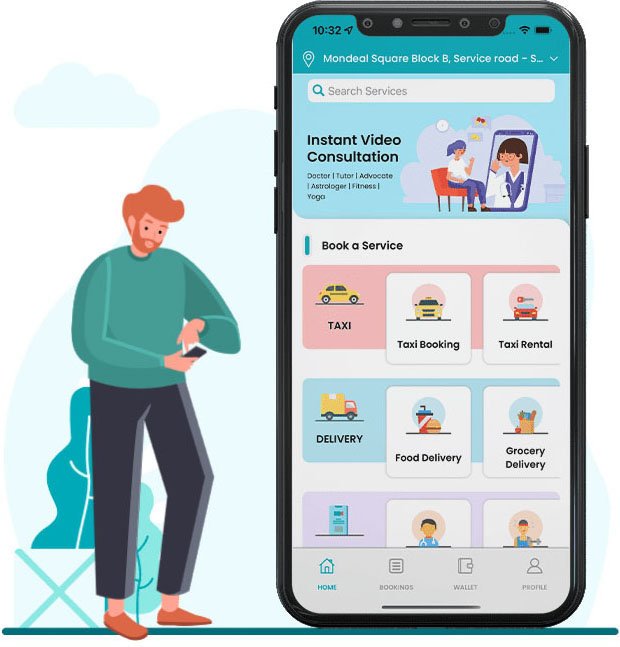 1. Uber-like taxi booking service
Your customers can enjoy booking a taxi or moto ride whenever they want to. The taxi booking service provides options like rentals, carpooling, ride-hailing, etc. Customers can book taxi rides through iOS and Android Apps, KIOSK panels, and iWatch apps.
Key components:
Multiple stop-over points
Live location tracking
Child seat preference
Book a ride for someone else
Handicap Accessibility
2. Online video consultation
Allows your customers to book an online video consultation session with doctors, lawyers, tutors, yoga instructors, astrologers, and many more. The main purpose of this Gojek-like app service is to help customers consult professionals without visiting them physically.
Key components:
Multiple sub-categories to choose from
Lists nearby service providers
Rate and review
Invoice summary
Booking history
3. Bid for service
Start bidding for service with handymen like carpenters, plumbers, electricians, home painters, and more. Customers need to post the job details. Subsequently, handymen from selected sub-categories get notification about the job. Now, they can accept, decline, or make an offer on the posted job.
Key components:
In-app push notifications
View task details in "My Bookings"
View the invited service providers list
Real-time negotiation
Choose a preferred payment method
4. On-demand services
The Gojek-like app also enables customers to book on-demand services like tow-trucks, car washes, beauticians, massage therapists, babysitters, and many more. Customers can book these services from their Android or iOS phones and dispatcher panel.
Key components:
Book now or schedule services
Mark as favorite
Live tracking system
Book through website
Filter and search providers
5. Parcel delivery
Send parcels to local addresses with a click. Similar to Uber-like taxis where people move, here stuff moves. Customers only have to add the pickup and drop-off locations. The delivery driver will do the rest of the work.
Key components:
Select cargo vehicle of choice
Multiple drop-off locations
Estimated arrival time
OTP verification to start the task
VOIP-based call masking
6. On-demand delivery
7 Gojek Clone's on-demand delivery allows customers to order food, groceries, medicines, flowers, and much more. In addition, customers can choose between standard delivery, contactless delivery, or takeaway! If it's a contactless delivery, the driver will leave the package at the customer's doorstep, click & upload the package's picture on the app, and notify the customer.
Key components:
Geo-fencing
Video calling with the delivery driver
In-app wallet transfer
View driver's rating
View or edit the cart
7. Delivery Genie and Delivery Runner
Another fascinating service of the all-in-one Gojek-like app is hiring a personal shopper and an errand-runner. Delivery Genie is the personal shopper who will fetch the ordered item in the market, purchase it, and deliver it to the customer's doorstep.
On the other hand, the Delivery Runner runs errands, such as delivering lunch boxes, documents, etc., from the X to Y locations.
Key components:
Order Items from any store
Order multiple Items
Track the order
Pay online
View booking summary
In conclusion:
On the whole, developing and launching an all-in-one Gojek-like app is the ultimate business idea! From offering multiple services to generating enormous profits, you will be the next KINGPIN of the on-demand industry with this app.
Take the right step today. Connect with the sales representatives of the white-labeling firm and discuss the business opportunities.
Author Bio:
I am Shruti, and I have been working as Content Writer at Entranttechnologies for the past 2 years. My expertise lies in researching and writing both technical and fashion content. I have written multiple articles on ludo game development company and teen Patti over the past years and would love to explore more on the same in the future. I hope my work keeps mesmerizing you and helps you in the future.